Entertainment
We have good entertainment arranged for you!
Laplaya Suites
Hospitality come naturally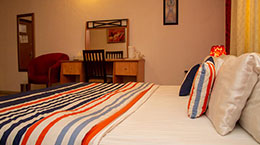 La Playa Suites is situated within easy reach of the commercial hub of Lagos. Enjoy the warm hospitality of this comfortable and inviting hotel. Laplaya Suites with:
24-hour room Service
Service Bar
Gym
Free Satellite TV in all rooms
Internet Access
Swimming Pool
Excellent Security
Testimonials
Here are some testimonials sent by our customers.
"Great hotel"
Stayed at a few hotels around Lagos all poor and very expensive La Playa Suites is by far the best i have stayed in
chrislee47 from Oldham, United Kingdom
"Best Hotel"
I've stayed in a few hotels around Lagos and non of them has the same standard has La playa. The rooms are very clean, modernized. La playa suites is a place i call home and each time i go back there i never want to leave. The staff there are friendly and the food is just to die for.It's well situated in the heart of Lagos and very easy to commute, and a shopping center just 10mins walking distance.I love this hotel, has i feel safe each time i am there.
Marley from London, United Kingdom
"Five star service from top to bottom."
My wife and I spent 7 nights in La Playa Hotel. Nearly everything was excellent. Five star service from top to bottom. The rooms were very clean and comfortable; the kitchen was perhaps too excellent; the laundry was great and the staff did everything they could to make our stay enjoyable. The restaurant/bar is friendly and provides an environment that encourages people to mix. The owners, Ralph and Gina, were fantastic hosts.
echandobuena from Oakland, California
"Its awesome"
All my years of travelling and this is the. Very first place I really feel at home in ,its a home away from home with good security systems .the food is the best I have had In any can say I got more than a three star treatment I could call it a five star hotel . The environment is friendly am waiting for a chance to be there again,and I really recomend it for my friends when they are on transit.
osofia
"Home from Home"
I visit Lagos on a monthly basis and always stay at the LaPlaya in VI. The staff are first class and there is nothing to much trouble for them. They put the guests needs first and always deliver a service with a smile. The kitchen is excellent and the 24 hour room service is second to none. I always look forward to arrving at the La Playa as I know I'm going to receive a warm welcome and a good clean and safe stay there.
John N from Port Harcourt.